The Ink
In fact, the regular pen and the rollerball both work with the same basic mechanism - a movable ball on the tip of the pen. As you write, the ink ball rotates to release the ink.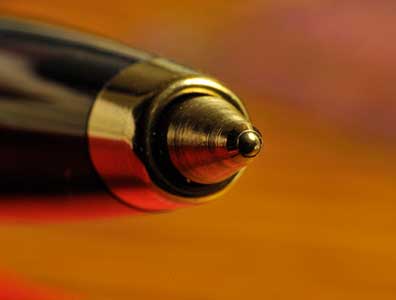 Where is the difference then? Regular pens use oil-based ink, which is thicker and more viscous. This helps it dry instantly and prevents smudging. This is also the main reason why this type of pen is so popular, along with the fact that they are more budget friendly. However, regular pens have less variation in writing thickness and colors.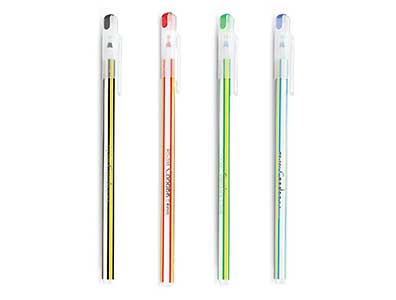 Ballpoint pren Flexoffice Sweet Candee
Rollerballs, on the other hand, use water-based ink, which is liquid or in gel form. It usually provides a smoother and easier writing that does not strain the hand. Rollerballs let up to 3 times more ink than regular pens, so they write much brighter and with a thicker line.
However, this can cause several problems. First, since the ink is liquid, it is more likely to smudge. Second, if you use thinner paper, there is a chance that the ink will show through or print on the next page.
Gel rollers work on the same principle, but the nature of the gel allows deeper pigmentation of the ink, giving a greater range of possible colors.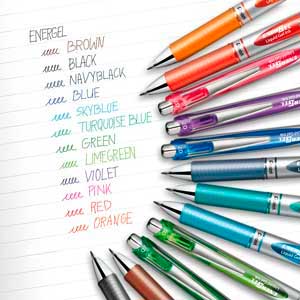 Roler pen Pentel BL77 в 12 цвята
There are also pens with low viscosity or so-called hybrid ink. It is an oil-based ink that approximates gel inks. Its innovative formula is quick-drying and has a lower viscosity. With such ink are Pentel's Feel-it series pens, which provide trouble-free writing. The ink in the pen has a very long life cycle - it can be used for years and will maintain a perfect writing line.
The writing
The second major difference is in the writing. Rollerballs have a wider range of colors and can offer a finer writing line, which is good for people with smaller handwriting or for small, detailed drawings. The rollerballs write with a thick, bright line and glide over the paper, ensuring easy and pleasant writing. They do not tire the hand because they use minimal pressure. Therefore, they are extremely suitable for people who write at length such as schoolchildren and students.
On the other hand, regular pens have a more controlled action and are considered suitable for filling out official forms and documents. We don't recommend them for taking notes, though, because your hand is likely to get stiff after prolonged use. They usually produce a thinner and lighter line and require a lot more pressure to write. The positive thing about them is that the writing dries instantly.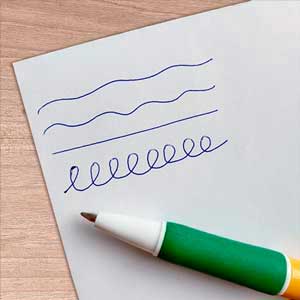 Choose the right one for you
Now that you know the main differences between a ballpoint pen, a rollerball pen and a gel pen, it's time to decide what you're going to write with. Here are our favorites:
| | |
| --- | --- |
| | |
| Ballpoint pen FO-045 Wavy | Ballpoint pen FO-04 Tango |
| If you like classic design, Wavy by Flexoffice is for you. It will offer you exceptional smoothness and ease of writing. The rubber grip area in the color of the ink adds to the comfort. You will find it in 3 colors. | The Tango automatic pen offers proven style and convenience at a great price. Round body with soft grip area and body in different colors. Tango is the ideal pen for everyday use as well as for corporate advertising printing. |
| | |
| Roller pen Pentel BL77 | Roller pen Pentel BL107 |
| Choose the Pentel BL77 automatic rollerballs if you prefer the comfort of a rollerball and are looking for ink that doesn't smudge. The EnerGel ink contained in the roller is unique in its kind. It liquefies as soon as the little ball in the tip turns. This roller will provide you with extremely soft and easy writing that requires minimal pressure. The ink is the fastest drying in the world, waterproof and lightfast, which makes it suitable for signing documents. The roller is available in 12 bright colors. | If you are looking for a more budget option, we recommend the Pentel BL107 automatic rollers. The difference is in the case, which in this case is made of plastic. The BL107 provides exceptional typing comfort thanks to the rubber grip zone that prevents the fingers from slipping. They are available in 11 bright colors with which to embellish any written text. They use the same refills as the BL77 with EnerGel ink that dries in almost a second. With the BL107, you don't compromise on quality at the expense of price. |